AHT's November Leader Of The Times
*Pscore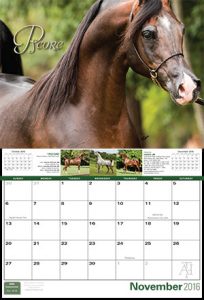 Leaders Of The Times: Pscore 
by THERESA CARDAMONE
Joyfully romping through his grassy paddock, Pscore's burnished mahogany coat glistens warmly in the sun. His majestic presence, abundance of type, and natural athleticism are evident as he trots effortlessly through the grass, knees breaking even. He exudes confidence and character, additional attributes of his stellar pedigree. Pscore is the premier stallion at Haras JM, which is among Brazil's leading breeders under the guidance of owners José Alves Filho and Maisa Tucci Alves, proven by a ten-year stretch as Brazil's Breeder of the Year. All told, they have been creating magnificent Arabian horses for over 27 years.
José was immediately fascinated by the horse that would come to play such a significant role in the Haras JM breeding program. "The first time I laid eyes on Pscore as a youngster, I knew he was so special," José recalled. "What stood out to me was his natural charisma, super attitude, correct conformation, and of course, classic Arabian type." Those characteristics had already combined to earn Pscore a Scottsdale championship and top ten futurity honors, but it was his potential as a breeding stallion that drove José and Maisa to pursue ownership. Their faith has been rewarded many times over. "Pscore is an incredible sire," comments José. "He has enhanced my breeding program with his amazingly beautiful daughters. He is also a very sweet and kind horse. Pscore just loves to be around people!"
Pscore possesses an enviable pedigree, being sired by the living legend and United States Reserve National Champion Stallion, Padrons Psyche, and out of one of the greatest producing mares of all time, double nationals top ten filly, Bey Shahs Lady. A proven dam line is a hallmark of a successful sire and generates keen interest in educated breeders. Through his incredible mother, Pscore is half-brother to Bey Ambition, a U.S. National Champion Futurity Colt and Canadian National Champion Stallion, and to a string of other United States or Canadian National Top Ten champions that includes Bey Jullyen, LC Arlington, Pstrategy, Artisann, Psax, RD Lady Magnum, and RD Alayna. This consistency of superior quality indicates that a blueprint for success has been drawn which provides perfect balance for the influences of the Padrons Psyche sire line.
A glance at the daughters and sons that Pscore has sired for Haras JM is all it takes to impress even the most casual observer. They are uniformly upright and elegant, with long legs and necks, beautiful heads, boatloads of type, and exceptionally lofty and powerful motion. José Alves Filho is well aware of the prepotency that his stallion possesses. "Another thing that I find impressive about Pscore," he said, "is his ability to consistently pass on the characteristics of himself and Padrons Psyche to his progeny. They are all super, and all winners." 
Among the most decorated of his get is Sherrize D' Pscore JM, a stunningly elegant bay who was named Brazilian National Champion Filly and twice won the National Champion Mare title in Uruguay. She is almost deer-like in her grace and refinement, with tons of motion. Pscore has also sired Brazilian Reserve National Champion Vadishaah Pscore JM, and the ethereally beautiful Brazilian Reserve National Champion Venittia Di Pscore JM among many other domestic and international champions. From the looks of the recent foal crops at Haras JM, that roster of winners will continue to grow with each successive year as Pscore's get and grand get continue to score championships of their own.
---